This is one of those Facebook things that comes around every so often. While I'm not keen on most FB quizzes (inane) I appreciate this one as it can be a good source of inspiration for new books to read.
Here's my list:
The rules: Don't take too long to think about it. Twenty books you've read that will always stick with you. List the first twenty you can recall in no more than twenty minutes. Tag some friends, including me, because I'm interested in seeing what books my friends choose. (To do this, go to your Notes tab on your profile page, paste rules i... etc etc.
1. To Kill a Mockingbird - Harper Lee
2. The Twits - Roald Dahl
3. Regeneration Trilogy - Pat Barker
4. Lord of the Rings - Tolkein
5. Red Mars - Kim Stanley Robinson
6. 1984 - George Orwell
7. Down and Out in Paris and London - George Orwell
8. Mill on the Floss - George Elliot (Still not finished it but loved it so far)
9. The Poisonwood Bible - Barbara Kingsolver
10. Cry the Beloved Country - Alan Paton?
11. Cat's Eye - Margaret Atwood
12. No. 1 Ladies Detective Agency - nice bit of cheerful fluff which shows an African country in a positive light
13. Father Ted - The Complete Scripts - Graham Linehan and Arthur Matthews
14. The Book Thief - Markus Zusak
15. Monkey - Wu Chen'eng en
16. Ray Bradbury/Azimov/Arthur C Clarke/Philip K Dick - Can't choose one specific book
17. John Wyndham - Day of the Triffids
18. The Book of Dave - Wil Self
19. Last King of Scotland - Giles Foden
20. The War of Don Emmanuel's Nether Parts - Louis De Bernieres

Also Miss Smilla's Feeling for Snow, Philip Larkin poetry, the War poets, Debbie Stollers learn to knit book, A Primates Memoir by Sapolski...
Seems I like dystopian Sci Fi and depressing books about African countries (Mma Ramotswe being the exception).
It would be interesting to revisit this list in 5 years time.
I'll end this post with an excerpt from my favourite kid's book, The Twits by Roald Dahl.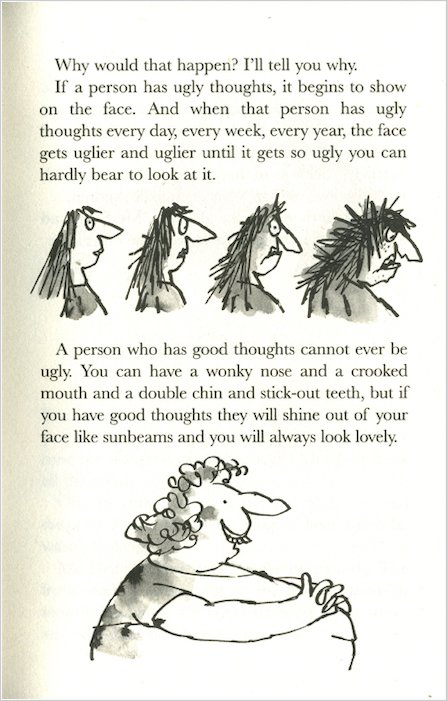 If you've written a list on your blog please leave a link to it in the comments so I can get ideas for new books to read. Thank you.